Must be at least 5 years of age to tube! 12 and under require a lifejacket!
Tube Rental Deposit: your car keys, drivers license or $20.00/tube.
Children must be 5 years of age and accompanied by an adult. Life jackets are required for tubers 12 and under and non-swimmers. THERE ARE NO LIFEGUARDS ON DUTY! Please watch your children at all times. We suggest a 1 to 1 ratio of adults to younger children for their safety.
Footwear that stays on your feet is highly recommended.  Flip flops will most likely be donated to the river.  Water shoes are the best option for a having a good experience at Coal Tubin'.
Call To Book
Weekday Tubin'
Monday - Friday
Parking

Shuttle

River Tube

$15 starting June 11th
Weekend & Holiday Tubin'
Saturday - Sunday
Parking

Shuttle

River Tube

$20 starting June 11th
Parking

Shuttle

Child's Tube

Staying the same price
Parking

Shuttle

River Tube

$12/16 starting June 11th
Weekday Tubin'

$15.00 

Weekend and Holiday Tubin'           

$20.00 

Children (12 and under)

$10.00

Military Discount

$12.00/$16.00

Cooler Rental

$10.00 

Weekday 

Tube Cooler Rental

$15.00

Weekend Tube Cooler Rental

$20.00

Lifejacket Rental

$5.00 (required for those 12 and under)

Weekend Season Pass
$75.00

Full Week Season Pass

$100.00

Lost or Stolen Tube

$20.00
Above rates include one shuttle, and all day parking. Tube Rentals are good for all day. Additional shuttle trips are $5 per trip/per person. Groups of 10 or more should call in advance (814) 254-4393!  We don't take reservations but appreciate a heads up! 
Operation times:
Weekdays from 12:00pm until 3:30pm. You must be at Coal Tubin' before 3:30pm.
Weekends and holidays from 11:00am until 4:00pm.  You must be at Coal Tubin' before 4:00pm.

NEW FOR 2019!!  WEEKDAY shuttle times: 12:30, 1:30, 2:30, 3:30. We recommend arriving at least 30 minutes prior to your preferred shuttle time to give you and your group enough time to check-in and get ready for your trip.  Must check-in at Coal Tubin before 3:30pm, that will be the last shuttle to the drop off point. 
WEEKENDS and HOLIDAYS remain unchanged 11:00am – 4:00 with shuttles running all day.
Lifejackets are required for those 12 and under. You can rent one from us for $5.00 or bring your own.
When the river is below 3 ft (we will go down to around 2.8) we will be running the lower route. It takes about an hour and a half but you can shuttle as many times for free as you'd like, so you get your money's worth. The water is too low through the middle section, and trust us…you would not enjoy it! This shorter run ensures that the water level is sufficient to make it down with minimal rock obstructions. When the river is above 3 ft we will be running the full run, which can take anywhere from an hour to 3 hours depending on water level. Check the release schedule on our homepage. On release dates we will be running the full run from 11:00pm – 4:00pm when the water hits. Please Check our Facebook page for the most current updates.  Sometimes releases don't happen on scheduled dates due to the Que water level.
Check out our FAQ section for more tubin' questions answered.
Here are all of the tubes that we currently use.  Specialty tubes are available for an upgraded price.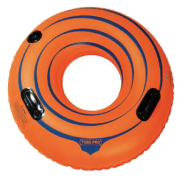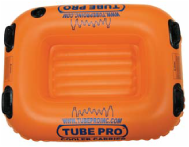 Regular Tube
These are our standard river tubes that are included in the purchase price.
Children's Tube
These are our standard child river tubes that are included in the purchase price.  They are smaller with a bottom in them, which makes them perfect for smaller tubers.
Cooler Tube – $15
Cooler tubes are great for transporting your filled cooler down the river with you!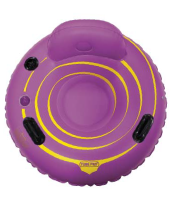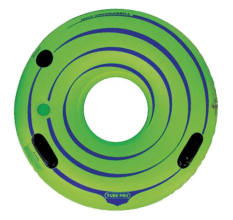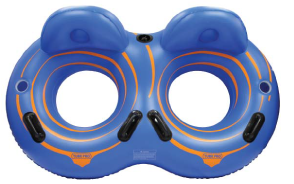 Purple Tube – $5 Upgrade
The same size as our regular river tubes, but with a back, cup holder, and bottom.
Big Green Tube – $5 Upgrade
Big Green is much larger than our regular sized river tube.  It also includes a cup holder!
Double Blue Tube – $40/$50
Double Blue is a two person tube with backrests and cup holders for double the fun!
*** IMPORTANT SAFETY INFO***
Stonycreek rafting, river tubing, swimming and river activities have both inherent and unknown risks and dangers. These include but are not limited to injury or loss of life. The Stonycreek river has NO LIFE GUARDS, so try to stay in your tube. You will be asked to sign a waiver and release of liability for yourself and anyone else in your group before tubin' down the river. Children MUST be 5 (five) years old to go tubin' with Coal Tubin'  – Parents & Guardians – you are 100% responsible for yourselves, your children and others in your party at all times.  If you don't know how to swim, wear a lifejacket.  The water can be up to 10ft deep in places. 
COME FLOAT WITH US!

We look forward to having you float with us.  There is a lot of information on our site.  Please visit the page for the activity you plan on doing.  Then if you have any additional questions, feel free to contact us at any time.
See you on the river! CONTACT US
PHONE
814.254.4393
EMAIL
coaltubin@gmail.com
ADDRESS
416 Main Street
Johnstown, PA
15901