You read that right…WE HAVE MOVED!!
Hello River Tubers, Whitewater Rafters, Whitewater Kayakers, and Whitewater Tubers! Winter has come to an end and it's finally time to enjoy the nice weather until it snows a foot in July! In all seriousness, it has been awhile since we've updated everyone on where we'll be located this summer with the bridge construction and the Moxham sewage project going on surrounding our current location at 303 Central Avenue parking lot. Starting Monday, June 11th, we'll be operating out of 416 Main Street, Johnstown, PA across from Balance Restaurant and adjacent to Central Park!
We've made this choice for the following reasons:
1. We do not have electricity, water, or bathrooms/changing areas on our parking lot. We have a shed. This makes our current operations extremely difficult.
2. We do not have enough parking capacity on our parking lot, room for our shuttles to turn around and load and unload Tubers, and space for our customers to check in comfortably.
3. We do not have enough room for our equipment (tubes, coolers, life jackets, and whitewater gear).
4. We've waited for the right property to become available to us and it seems that that may not happen in the short term and we must unlock growth in our business that has been stifled for some years now. This new location will afford us this.
*THE TUBIN' RUN WILL REMAIN THE SAME!!!*
Our new location for 2018 will bring the following changes:
1. An additional 4 minutes shuttle to the put-in. We minimized the shuttle time to where this should hardly be noticed. What you WILL notice is…….
2. A 4 minute shuttle from the takeout (our current home and parking lot) to our new location at 416 Main Street. We'll have shuttles cruising through frequently to scoop you up and whisk you back to where you checked in.
3. Our increased shuttle costs and additional employees are forcing us to finally take into account the fact that we haven't raised our prices in over 7 years and that inflation has been growing at an average rate of 3% each year. We've brought our prices in line with those forces and costs and you'll see Adult (not children) tube prices increase a few dollars this summer.
With those minor changes brings a host of GREAT news regarding your tubing adventure!
1. We'll have bathrooms AND changing rooms!
2. Your pre- and post Tubin' food options abound! Press Bistro, Balance Restaurant, Stone Bridge Brewing Co., Em's sub shop, Capri Pizza, Tower Pizza, Flood City Cafe, Harrigans Cafe and wine deck, The Fish Boat, The Freight Station, Asiago's and many more options are just a few steps from your car and our door!
3. No need to worry about where to park anymore! Attached to our building is a parking garage with hundreds of spots!
4. On our current lot, after you get out of the river, we'll have a foot rinse station and Kan-jam and corn-hole to occupy those few minutes you may have to wait for the return shuttle to your car.
5. Accommodations are easier than ever with the Holiday Inn Downtown Johnstown right across the street!
6. Your overall experience will be enhanced, more organized, and fun with our new set-up!
7. SUPER AWESOME UPGRADE!!: With our new location our out of town guests can skip driving altogether and hop on the Pennsylvanian with train service from Chicago to New York City which stops in Johnstown a few blocks from our front door!
We'll likely run into a few things we've missed so please do not hesitate to inform us of any ideas you may have to make our company better! Comment below, message us, or pull us aside when you visit and let us know what you think!
Information and videos regarding our new operations can be found on our website and Facebook page in the coming week. We appreciate everyone's support and understanding as we make this move to a place where we can offer our customers more amenities and a better value for their dollar. You've asked enough for these things and now we can finally give them to you!
We are so excited to bring the outdoors to you in a way that is affordable, unique, and easy!
We'll be operating at our present location through this weekend and will make the move to 416 Main Street, Johnstown, PA on MONDAY, JUNE 11th.
We know there will be some growing pains and hope that you all bear with us through these exciting changes!
Viva La Johnstown!
Chad and Jill
Weekday River Tubin'
Monday - Friday
Weekend & Holiday River Tubin'
Saturday-Sunday
Kid River Tubin'
Ages 12 and under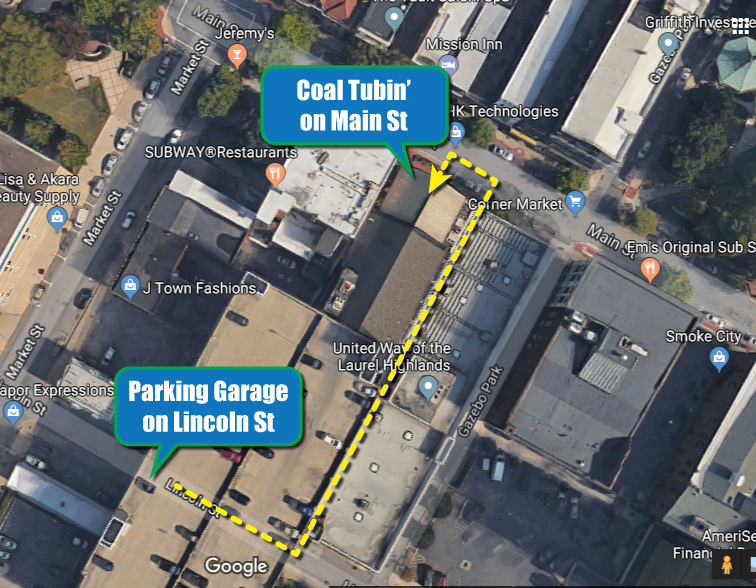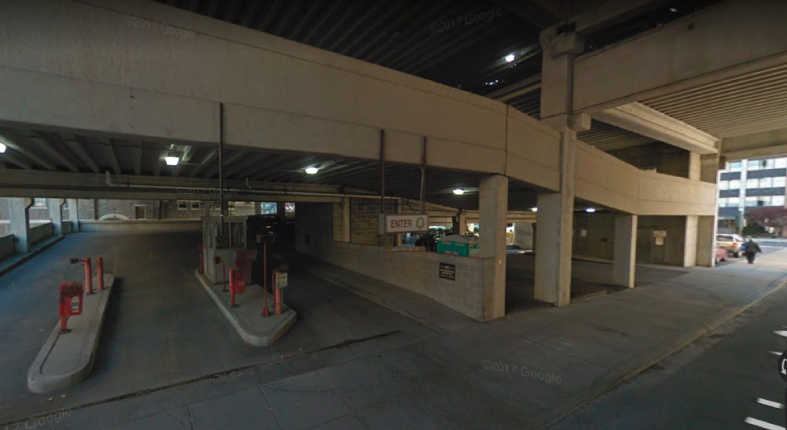 Parking Garage
The parking garage is located at 418 Lincoln Street Johnstown, Pa 15901 where there are designated Coal Tubin' spots (more info to come on that).  Park there and then follow the signage to our Main Street Location.
UPDATE: We will have spots 215-234 on the top level reserved for weekdays.  They will be marked.  If those spots are full there are metered ones on the ground level.  They are first come, first serve.  Weekends park on any spot on the top levels.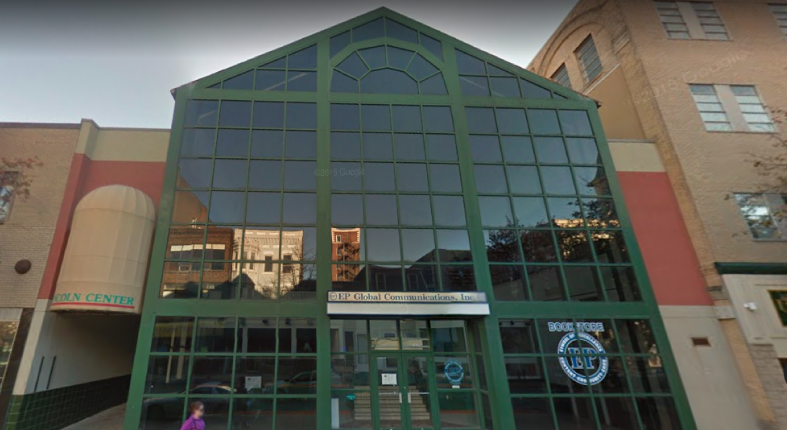 Main Street Location
We are located at 416 Main Street Johnstown, Pa 15901 Just follow signage from the parking garage to our Main Street Location where you will get checked in.